How Red Light Therapy Can Improve Equine Wound & Injury Healing
Red light therapy is gaining popularity as a non-invasive therapeutic way to help a range of ailments. From wound healing, to helping muscle inflammation its effects are being seen across both humans and animals with equine red light therapy helping horses around the world.
But exactly how does red light therapy work and how can red light therapy help improve equine wound and injury healing? We take a look into this impressive therapy and how it can help your horses.
How does red light therapy work?
Infrared light therapy uses certain wavelengths of light that are delivered to sites of the body that have injuries. The light is absorbed by the photoreceptors in cells and once absorbed, the light energy kickstarts a series of metabolic events, triggering several natural processes of the body on a cellular level, one of them being an increase in blood flow.
The increase in the blood flow to the different parts of the body makes it possible for oxygen and nutrients to reach the cells, enabling them to function properly and effectively. Hence, this therapy stimulates the regeneration and repair of injured tissues, reducing pain and inflammation and clears out the dead or degenerated cells. We also have a more comprehensive article on RLT here.
But what is Infrared and Red light?
Infrared light is the heat people feel when exposed to the sun. The skin naturally radiates infrared heat every day. However unlike ultraviolet light – which has damaging effects upon the tissues and cells of the body – infrared helps cells regenerate or repair themselves.
This technology allows people to harness the benefits of the sun, without being exposed to harmful ultraviolet rays while also being safe and effective, without adverse side effects. As a matter of fact, infrared light is safe and is used even for infants in neonatal intensive care.
Red light therapy is similar to Infrared light but you can see it via the visible red light which emits from the device. Red light therapy is also called low-level laser therapy (LLLT), low-power laser therapy (LPLT), low level light treatment, and photobiomodulation (PBM).
What is Red Light Therapy used for?
In humans, light therapy is applied in the treatment of various health conditions, including back pain, arthritis, bursitis, blunt trauma, muscle strain, carpal tunnel syndrome, neck pain, back pain, diabetic neuropathy, rheumatoid arthritis, temporomandibular joint pain (TMJ), tendonitis, wounds, sciatica, and surgical incisions.
Plus Infrared therapy is an effective and safe remedy for pain and inflammation due to the ability to penetrate deep through the layers of the skin, to the muscles and bones. Since infrared therapy enhances and improves circulation in the skin and other parts of the body, it can bring oxygen and nutrients to injured tissues, promoting healing. It helps ease pain, relieve inflammation, and protect against oxidative stress.
In horses, red light therapy is used on a number of ailments including:
Muscular injuries
Tendon injuries
Bruising
Oedemas
Open wounds and wound healing
Arthritis
Fractures
Splints
Acupuncture Points
Trigger Points
Used in combination with rehabilitation techniques such as using Equiband.
Using light therapy has shown an increase in healing times from injuries and overall happy and healthy horses who haven't had to undergo stressful and invasive recovery treatments. However, Red Light Therapy can also be used as an additional tool in a horse's rehabilitation program after an injury, or lay off (such as after having colic) helping to reduce swelling and repair damaged tissue after operations.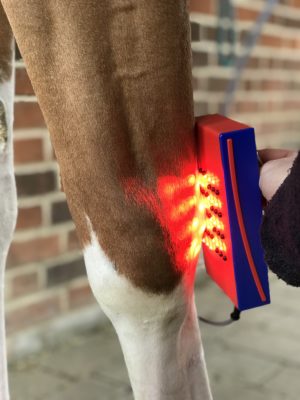 But light therapy isn't only for horses with injuries or niggles. For horses with minor injuries, the increased circulation to the area allows horses to experience relax muscles and often they will be looser and more supple in training.
Products that use Light, LED and Laser Therapy
In the Animal Therapeutics range, there are a few products that use red and infrared light to help horses with treating injuries and ongoing maintenance programs.
The Activo-Med Laser Pen is used for non-invasive targeted light therapy, stimulating the cells within the body to heal, recover and function effectively. Laser pens can be used on horses for targeted treatment on injuries, known problem areas, acupuncture and trigger points and can promote general wellbeing and assist in accelerated healing. The Laser features visible red light diodes and Supralight LEDs (Light Emitting Diodes).
Activo-Med Laser Pens using LED light therapy is a fantastic tool to keep on top of ongoing issues, helping with treating wounds, and are a great addition to any stable care routine.
The Activo-Med Cluster combines Light Therapy (Red light and Infrared) and Pulsed Electromagnetic Field (PEMF), together with providing a range of different frequencies to stimulate different cells within the body. Clusters can be used on horses for general wellbeing, and to assist in accelerated healing, pain relief and inflammation reduction, making it a fantastic all-round tool for your stable.
The Cluster features 24 invisible Infrared Light diodes, 24 visible Red Light diodes, Supralight LEDs (Light Emitting Diodes), Pulsed Electromagnetic Spool and allows the user to fully adjust intensity and frequency. There is even an optional Massage option for additional therapeutic effect.
The Activo-Med Equine Power Pad has been specially developed for local application. They are held in place using an innovative system of elastic Velcro fasteners and are suitable for horses in training, as well as for rehabilitation. Triple Power Pads can run up to three therapies at the same time, combining the therapeutic effects of Pulsed Electromagnetic Field Therapy, Light Therapy and Massage.
These light therapy pads are a great tool in any stable's therapy toolkit for any soreness or issues that arise. Wrap it around a leg, place on the back or sacroiliac, strap to the neck or hindquarters for direct and simple application of therapies.
To find out more about how the Animal Therapeutics range of red light therapy products can help your horse get in touch with us here.
You may also be interested in our article on kissing spine in horses and ponies.